Mountain Area Forecast ( Dec 16-18 )
ALERT For A Major Storm System Impacting The Mountain Region Friday Night Into Sunday
Multiple Threats

:

*
Bitter COLD Air Will Continue To Be Felt Into Friday Morning With Single Digits & 10s
Bitter cold will continue to dominate the mountain area into Friday with single digits and 10s.  The coldest temps will occur in upper elevation mountain valleys and on ridges with 5 above to -5 below zero readings.
*
HIGH Winds With ROARING S-SW Speeds Developing Friday Night Into Saturday
**
Hurricane Force wind gusts ( 75 mph or higher ) will be possible at the High Knob Lookout on Saturday, especially during the pre-dawn to mid-morning period.  Any visitors should avoid going inside of the Lookout Tower where air funneling could blow someone over the walls ( it offers no protection ).
Gusty winds will begin developing across middle-upper elevations Friday and become STRONG Friday Night Into Saturday.  Gusts of 40-60+ mph will be possible by the predawn to mid-morning period of Saturday, especially within higher elevations.  Strong & gusty winds will continue into Saturday Night & Sunday.
*
Mix-Frozen Possible At Onset Of Precipitation Into Saturday Morning – Especially In Colder Valleys And On Northern Slopes & North Slope Roadways Where Frozen Surfaces Will Take Longer To Thaw
Although strong winds and enhanced mixing will help air temperatures to rise above freezing across the area, some surfaces will remain frozen and/or partially frozen due to current bitter cold air and a limited above freezing time period at or above freezing prior to onset of precipitation.
*
Heavy Rainfall & Embedded thunderstorms Will Be Possible In Advance Of Sunday Cold Air With Strong Rises Possible On Streams
 Strong SSW-SW upslope flow will again cause enhanced rainfall amounts along and southwest of the High Knob Massif and Tennessee Valley Divide.  Given precipitation totals of 7.00″ to 10.00″+ since November 28, and at least partially frozen ground, strong rises on streams will be likely in locations having heavy rainfall ( as will ponding within low-lying, poor drainage locations ).
*
A Change To Frozen Precipitation & Snow Will Be Possible Sunday, With Potential For An Ice Up On Walkways, Porches-Decks, and Roads
Strong cold air transport back into the mountains behind a potent cold front Sunday will change rain into frozen forms that will transition into snow.  Accumulating snow will be possible, especially along and west-northwest of the High Knob Massif and Tennessee Valley Divide in counties along either side of the Virginia-Kentucky stateline.
Stay tuned to NOAA Weather Radio and your favorite media sources for updates on significant and rapidly changing weather conditions into this weekend.
Overnight Into Friday Morning
Mostly cloudy ( high clouds and a "ring around the moon" ).  Bitterly cold.  Light winds, except N-NW shifting S at 5-15 mph with a few higher gusts on upper elevation mountain ridges.  Temperatures in the single digits to lower 10s, except locally as cold as 5 above to -5 degrees below zero within valleys and on ridges at upper elevations ( before rising overnight into morning on the highest ridges ).
Friday Afternoon
Cloudy ( mid-high altitude clouds ).  Cold.  SSE-S winds increasing to 5-15 mph, with higher gusts, on mountain ridges & plateaus below 2700 feet.  S-SW winds increasing to 10-20 mph, with higher gusts, on mountain ridges above 2700 feet.  Temperatures varying from mid-upper 20s to low-mid 30s ( coldest in upper elevations ).  Wind chills in the 10s & 20s ( coldest in upper elevations ).
Friday Night Into Saturday Morning
Cloudy.  Showers developing.  Thunder possible.  Caution for frozen surfaces at onset of precipitation.  Windy.  SSE-SSW winds 15-25 mph with higher gusts along mountain ridges-plateaus below 2700 feet.  Winds SSW to SW 20-35 mph, with higher gusts, on mountain ridges above 2700 ft.  Temps rising into the 30s & 40s ( wind chills in 20s & 30s ).
*
Due to strong upslope flow the potential for low clouds and dense fog will need to be watched Saturday ( in addition to the showers ) from the High Knob Massif and Tennessee Valley Divide ( Norton-Wise area ) southwest, to contrast with higher cloud bases and/or periods of sunshine in downslope locations to the northeast where temps could be much milder in places like Pound & Clintwood.
Saturday Afternoon
Low clouds and fog from the High Knob Massif & Tennessee Valley Divide southwest.  Partly sunny to the northeast into northern Wise, Dickenson-Buchanan counties.  Chance of showers & drizzle in the upslope zone with chilly conditions.  Windy.  SSW-SW winds 10-20 mph, with higher gusts, along mountain ridges-plateaus below 2700 feet.  Winds SSW-SW 20-35 mph with higher gusts along upper elevation ridges.  Temperatures varying from 40s to around 50 degrees in the upslope zone to the 50s to lower 60s in downslope locations.
*
The highest temperatures may actually occur Saturday Night into the predawn of Sunday, especially if low clouds-fog develop on the strong upslope flow for the daylight hours of Saturday from Wise and Norton southwest.  Extremes in the area could vary from the upper 40s to around 50 degrees in upslope areas of the High Knob Landform to 60s in Pound, Clintwood, Haysi, and Grundy.
Saturday Night Into Predawn Of Sunday
Showers with a chance for thunderstorms.  Locally heavy rainfall.  Windy.  SSW-SW winds 15-25 mph, with higher gusts, along mountain ridges-plateaus below 2700 feet.  Winds SSW-SW 20-35 mph with higher gusts along upper elevation mountain ridges.  Mild with temperatures rising into the 50s to near 60 degrees ( locally above 60 degrees in downslope locales of northern Wise, Dickenson-Buchanan counties around Pound, Clintwood, Haysi and Grundy ).
Sunday Morning Into Sunday Afternoon
Rain mixing with and changing to sleet & snow.  A chance for freezing rain.  Windy.  Turning much colder.  SW winds shifting NW to N at 10-20 mph, with higher gusts.  Temps falling into the 20s and 30s, except into the 10s at highest elevations by late.  Wind chills dropping into 10s & 20s, except single digits at highest elevations by late.
*
A light to potentially moderate accumulation of snowfall will be possible during Sunday, especially along and west to northwest of the High Knob Massif and Tennessee Valley Divide.  Icing will also be possible, with amounts of ice versus snow dictating how much snow depth develops.  Stay tuned for later updates.
Weather Discussion ( Major Changes )
Saturday Afternoon Update
Roaring winds and strong SW upslope flow through the area I define as the High Knob Landform is doing its thing today, with low clouds, fog, light showers-drizzle and chilly temps versus locations adjacent to it with breaks in the overcast and temperatures of 55 to 60 degrees ( downsloping zone ).
I came to define the High Knob Landform ( geologic Powell Valley Anticline of the Cumberland Overthrust Block ) decades ago now partly due to this feature which I found to be an aspect of its long-term climatology.  An aspect of local weather that is predictable  as well, in advance.  During many winter seasons, of course, it can generate what has been termed as "freak" falls of snow; however, they are not freak at all and are part of this same pattern being experienced today ( just with colder air ).
Here it is more than just an inversion as is being experienced today upon the Tennessee Valley floor, within portions of the Tri-Cities.  
Here it is part of true orographic forcing that features deep, low-level cooling as air is lifted 3,000 vertical feet between northern Tennessee and the High Knob Massif.  It works to enhance mean annual precipitation amounts and is one factor critical to making the High Knob Massif area the wettest terrain in Virginia.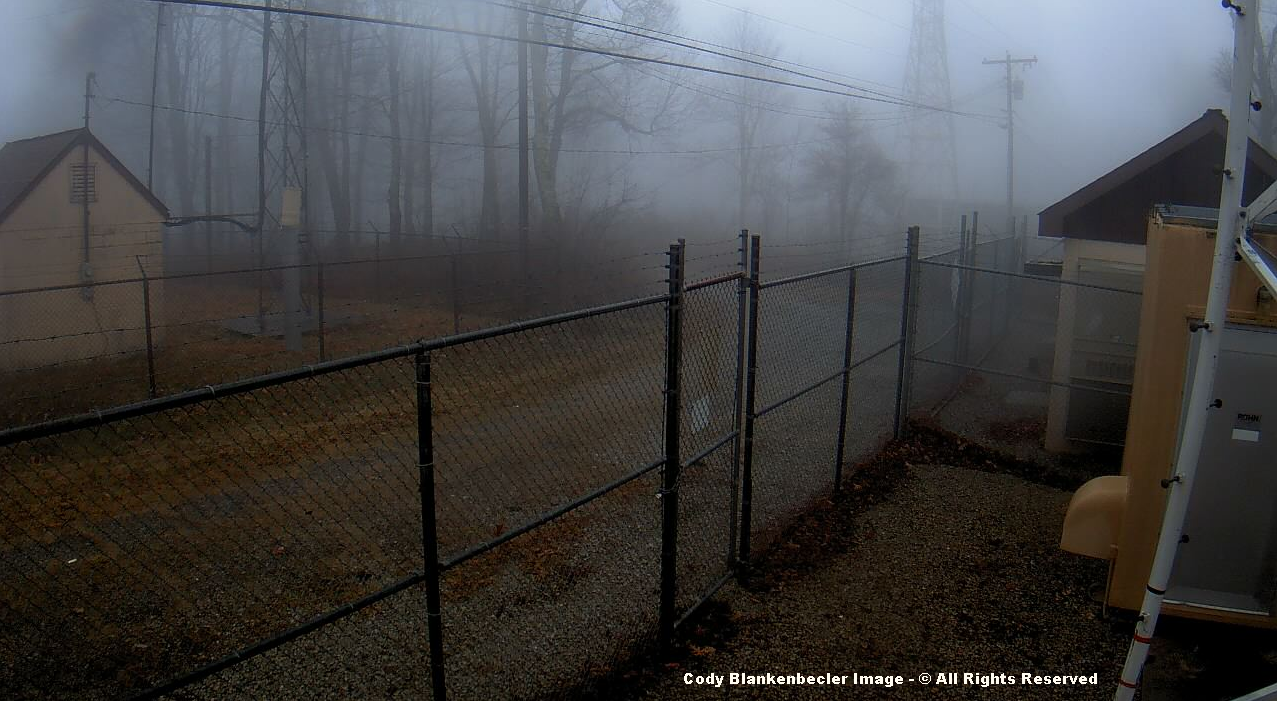 Rainfall totals today have topped 0.25″ in the High Knob Massif versus only a few hundreds in the downslope zone.
Differences from southwest to northeast along air flow illustrates the change in conditions from the zone where air is rising toward the High Knob Massif-Tennessee Valley Divide ( above ) to where air sinks downstream of the high terrain ( below ).  Similar milder conditions have been experienced today in Pound and Clintwood, as was forecast, amid the downsloping zone ( 57.3 degrees being the max reached so far in Clintwood ).
All temperatures will continue to warm through the atmosphere in advance of a strong cold front that will arrive by Sunday morning.  Winds will also continue to ROAR as they are doing outside my home right now!
*
I do not understand why wind advisories were dropped, or never issued to begin with in some cases, amid the middle of such a very strong wind event.
Meanwhile, a Tornado Watch is now in effect across much of middle Kentucky and Tennessee and are next to Winter Weather Advisories ( something rarely seen ).
The most complicated part of this system is to come, as convection continues to develop ahead of a sharp temp plunge that will change heavy rain to frozen forms on Sunday.  The vertical temp profile is going to become absolutely critical to how much frozen precipitation actually falls and in what proportions.
Check back late tonight as I make updates to the forecast based upon the evolution of convection and new forecast model data.
Friday Evening Update
Winds are now ROARING across mountain ridges above 2700 feet in elevation, with sustained speeds around 30 mph and gusts of 40-50+ mph.
Sheltered valleys remain at or a little below freezing, with most other locations now easing above 32 degrees.
Light showers forming in the lift of the High Knob Massif have wet the ground and camera on Eagle Knob, as the lower atmosphere is beginning to moisten up.
Friday Afternoon Update
I have updated for a complete overcast with thickening of mid-high clouds across the region.  I have lowered my MAX temperatures, which already were the coldest forecast, by a little due to this with low-mid 30s at low-mid elevations.  Some places may not reach this until the end of this day.
SSW winds are increasing at high elevations, with much stronger speeds coming into Friday Night.  Waves are already forming in the turbulence aloft.
Note that it is the long wave lines, which go across this view from right to left, that are the orographic waves.  Other waves that are smaller looking have formed due to wind shear aloft with WNW flow streaming across developing S-SW low-level flow.
A strong temperature inversion will be developing into Saturday and may keep strong winds above many valleys until later mixing can break up the inversion.  That already has been factored into my forecast, as you note I talk about "mountain ridges-plateaus" when referring to winds.
The inversion formation shows up very well on this NAM 12 KM Model forecast sounding above Norton-Wise at 7 AM Saturday, with much milder temperatures at High Knob Massif summit levels versus low elevations.  Also note that wind speeds reach maximum intensity near the inversion top ( where red-green temperature-dewpoint lines bulge back toward the right ).
With little sun to heat up surfaces today, only what has been able to penetrate through clouds, this raises concern for frozen surface development overnight into Saturday Morning when everyone will need to take extra caution as precipitation develops – with valleys having a higher potential than high ridges.
Due to strong upslope flow and this inversion formation there will be a high potential for low clouds, damp and chilly conditions during most of Saturday in the upslope zone from the Tennessee Valley Divide ( e.g., Wise ) and High Knob Massif southwest toward Big Stone Gap into the Powell River basin of Lee County versus locations toward the northeast where low-level sinking ( inverse forcing ) will help warm up communities around Pound, Clintwood, Haysi and Grundy ( to note a few ), especially if strong mountain waves aid breakup of the inversion.
I have rearranged my Saturday forecast to account for this, breaking out Saturday Afternoon by itself to allow for temp warming in the SW upslope flow zone into Saturday Night and the predawn hours of Sunday.
Initial Discussion
Arctic and sub-tropical air masses will clash, literally right over top of the Mountain Empire, to generate WILD & LARGE changes in weather conditions through this weekend.
Turbulence ahead of an advancing arctic cold front interacted with the mountain terrain to generate a simply spectacular sunset above UVA-Wise on Thursday ( note the stacked lenticular clouds, at bottom of view, along edge of this wave filled cloud mass ).
An array of mostly high altitude clouds, with some mid-level clouds, will be the only thing to hold back temp drops overnight into Friday morning given an extremely dry air mass of true arctic origin ( and the fact that despite this time of year, and local climatology, there is no snow covering the ground to aid temperature drops ).
Such powerful winds, both near the surface and aloft, developing with this system are in direct response to huge temp changes, or gradients, forming between arctic and sub-tropical air masses.
Always a clear signal for a storm system of vigor, and one to be closely watched, is a 150-200+ MPH jet streak with a quad supporting upward vertical motion ( such as the Right Rear quadrant shown above ) moving over the mountains.  This will supply part of the dynamics aloft that will have to be closely followed to see how well they couple with low-level forcing generated by a strong push on the mountain terrain by a jet of powerful low-level winds.
*The most potent outcomes arise when upper-level dynamics and orographics couple together.  These settings can also be ones in which models struggle most to resolve mesoscale conditions.
The storm event is just coming into range of short-range, higher resolution models, so it is likely that some changes will occur in their output during the next 24-hours.
Given forecast wind speeds, by the European Model group, and now the short-range models, orographic forcing will become a bigger factor in the forecast than they are currently showing; although, you can see ( above ) how the NAM 4 KM tries to show major terrain features it has trouble resolving local topography.
Although thunderstorms are not expected to be a huge factor locally, the air will become unstable aloft initially and then vertically through the column from the surface to support embedded lightning & thunder.  A case where the currently cold atmosphere can be deceptive.  At the least, convective precipitation will be likely and this will be a factor in precipitation amounts to some extent.
The Drought Monitor does not always reflect local conditions in orographic areas, like the High Knob Massif, where with exception of Autumn 2016 the year has been seasonably wet.
While I understand farmers in the region have been hurt by a lack of summer-autumn rains, especially toward the VA-TN border, there is no longer a drought of any significance in the High Knob Massif area where the level of Big Cherry Lake has risen 9.8 vertical FEET this month to fill this major water supply up to its spillway.  Run-off along South Fork  of the Powell will be more significant for this event since the Dam will now not be holding back as much water.
It will be important to check back for updates and to keep alert for these rapid weather changes through this weekend.  While I tried to cover most of the bases, some forecast model twists & turns will undoubtedly arise as this major weather system develops.