Mountain Area Forecast ( Dec 28-30 )
A Blast Of Cold Air Thursday Into Friday Morning Will Be Enhanced By Strong & Gusty W-NW Winds.  Upslope Snow Showers Are Expected Thursday Night Into Early Friday With Accumulations Varying From A Dusting Up To 3″ ( Mainly Windward Side Of The Mountains ).
Locations along and west to northwest of the High Knob Massif and Tennessee Valley Divide, as well as the TN-NC Border, will be most favored for accumulating snow.
Overnight Into Wednesday Morning
Mostly clear.  Seasonally cold.  Winds WNW-NW at 5-15 mph along mid-upper elevation mountain ridges.  Temperatures varying from 10s in colder mountain valleys to the 20s to lower 30s ( mildest on exposed mountain ridges ).  Areas of mainly river valley and lake fog & freezing fog.
Wednesday Afternoon
Sunny.  Light SSE-S winds mostly less than 10 mph below 2700 feet.  S-SW winds increasing to 5-15 mph, with higher gusts, on mountain ridges above 2700 feet.  Temps varying in the 40s to near 50 degrees.
Wednesday Night Into Thursday Morning
Becoming cloudy & windy.  Rain developing by midnight into the overnight.  A chance of thunder.  Rain ending as snow and/or sleet at highest elevations toward morning.  SSW-W winds 10-20 mph, with higher gusts, at elevations below 2700 feet.  Winds SW to WNW 15-25 mph, with higher gusts, along mountain ridges above 2700 ft.  Evening temps in the low 30s to around 40 degrees, then rising into early overnight before dropping again by morning.
Thursday Afternoon
Partly cloudy & windy.  Turning colder.  W to WNW winds 10-25 mph, with higher gusts.  Temperatures dropping into the mid-upper 20s to the mid-upper 30s ( coldest at highest elevations ).  Wind chills falling into the 10s and 20s, except single digits in gusts at highest elevations by late.
Thursday Night Into Friday Morning
Cloudy with snow showers & flurries developing.  Colder.  Snow accumulations of 1″-3″ along the upslope side of the mountains, with less than 1″ leeward of the mountains and at elevations below 1500 feet in elevation.  WNW-NW winds 10-25 mph, with higher gusts.  Temps varying from low-mid 10s at the highest elevations to mid-upper 20s.  Wind chills in the single digits and 10s, except below zero ( especially in gusts ) at the highest elevations.
*Another heavy precipitation event is now being watched for this weekend into early next week.  Precipitation may begin as snow or a mixture on Saturday ( December 31 ) before changing to all rain in all locations.  Heavy rain and strong rises on streams & rivers could occur early next week.  Stay tuned for later updates.   
**The potential for a prolonged, harsh period of winter conditions is being monitored for the January 4-6 period, and beyond in time, with formation of high latitude blocking and a cross-polar flow from Siberia into North America.  Stay tuned for updates on this major shift into significant winter conditions in January 2017.
Weather Discussion ( Big Changes )
Wednesday Evening Update
Evening temperature have fallen rapidly to around 30-35 degrees in mountain valleys, ahead of thickening clouds with a band of rain and some embedded thunder.  I have updated the forecast to account for this steep evening temperature drop and to add a chance of thunder with elevated instability above a cold boundary layer.
This will be adding more water to creeks that are already gushing with water pouring out of the High Knob Massif.
Temperatures should rise in valleys as strong and gusty winds mix throughout the vertical depth of the atmosphere with wind driven rains arriving in a couple more hours.
Previous Discussion
Much like the virtual switch flip from dryness to wetness that occurred in late November through December, another flip of the weather switch will occur in early January to kick off what I think will be a prolonged, harsh period of winter.
Meanwhile, rapid fire weather changes will continue into this weekend and early next week as a very active pattern continues to impact the mountain region.
The rise and drop of water levels on steep creeks draining the High Knob Massif during this past month tells the tale of wetness, with 7.00″ to 11.00″+ now having fallen just in December ( several inches more if adding late November ).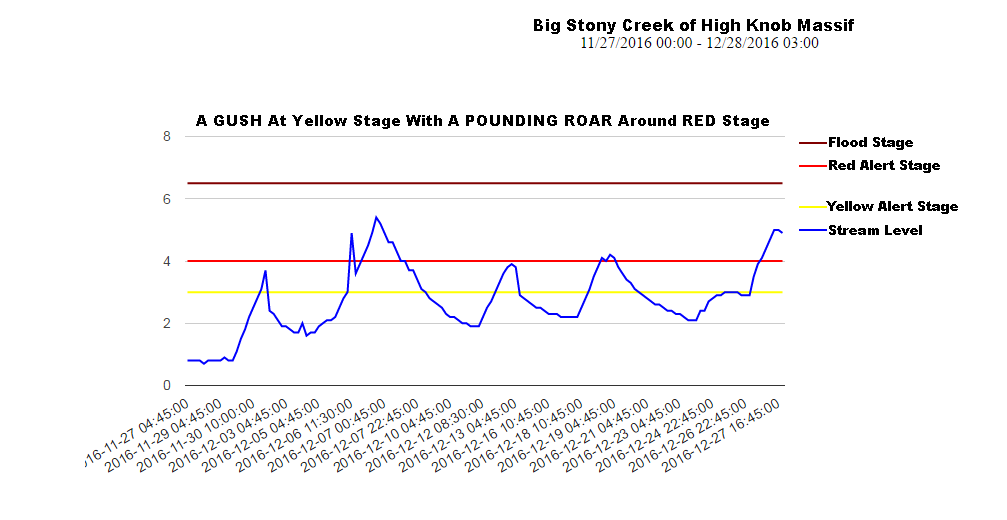 A total of 10.33″ were measured in the City of Norton, at base of the High Knob Massif, from November 28 to 9:00 AM December 27  ( with moderate-heavy rain falling at observation time Dec 27 ).
*Around 15.00″ or more of total precipitation has fallen across the head of Big Cherry Lake basin during the 1-month period between November 28 and December 27.  This NOT including substantial secondary moisture from RIME deposition on trees and fog drip from trees added to the watershed during this period.
A total water level rise of 12.5 vertical FEET has occurred on Big Cherry Lake in the High Knob Massif, with a significant overflow of its spillway causing a ROAR of whitewater on South Fork of the Powell River through South Fork Gorge.
Observe the dewpoint drop as dry air advection occurs into upper elevations ( from 2:45 AM to 4:35 AM ).  This dry air will enhance cold air drainage into deep valleys that decouple from boundary layer winds, especially in upper elevations, with mixing of this drier air into lower elevations after sunrise Wednesday.
Although winds remain brisk on high mountain ridges, the valleys are going calm and temperatures are really starting to drop as dewpoints are falling through the 10s at highest elevations to supply drier air for drainage into valleys.
A similar 900-800 MB dry air supported drop occurred in high valleys of the High Knob Massif on December 19-20.
The MIN in Wise reached 18 degrees, at the University Of Virginia's official NWS Station, with 19 degrees at the official NWS station in Clintwood ( the Big Cherry Wetland Valley sensor being calibrated and checked by National Weather Service equipment in Clintwood prior to placement ).
A similar setting was observed during December 19-20 when the MIN temperature fell to 10 degrees in the Big Cherry Lake Wetland Valleys.  Although this was 6 degrees colder than in Burkes Garden and 11 degrees colder than recorded in Shady Valley, it illustrates the range that often occurs in our mountains that is never fully recognized.  The Big Cherry Wetland Valley sensor site likely not being in the coldest spot within high valleys of the massif.
While high mountain valleys in the Cumberland Mountains, especially those in the High Knob Massif, will tend to be the coldest by Wednesday morning, valleys in many locations will experience significant drops during the predawn to post-sunrise period ( especially where fog does not form ).
Sunny skies and dry air will promote a rapid temp rise in valleys Wednesday ahead of the next rapid fire weather change featuring another round of rain that gives way to arctic air and snow showers by Thursday Night.
Bombogenesis of low pressure along the New England coast will wrap most abundant moisture into windward slopes of the Appalachians from central-northern West Virginia northeastward, with 6-10″+ accumulating within  elevations above 3000 feet.
Meanwhile, the Mountain Empire only has a grazing shot with 1-3″ generally expected along windward slopes in the favored locations ( the model, as typical, not picking up on the High Knob Massif-Black Mountain area and its adjacent upslope snowbelt zone ).  Only flurries are likely leeward of the mountains, in much of the Tennessee Valley, with less than 1″ in general at elevations below 1500 feet in all sites.
This marks only the beginning of major weather changes upcoming as December passes into January.  You will want to stay tuned to MANY changes ahead.