My Forecast For Today ( March 1 )
Update At 3:50 PM:  A Squall Line With A History Of Wind Damage Is Moving Across Eastern Kentucky Toward The VA-KY Stateline.  Expected Arrival Is Around 5:00-5:30 PM ( give or take 15 minutes ).
The squall line will reach Cumberland Gap by around 4:15 to 4:30 PM and the Norton-Wise area between 5:00 & 5:30 PM.
Previous Overnight Forecast
ALERT For A Dramatic Weather Change

From Late This Afternoon Into Wednesday Morning.  A Squall Line Of Heavy Rain-Possible Storms Will Give Way To A Wind Shift With ROARING Evening Winds And A Sharp Drop In Temperatures Between 10 PM and Wednesday AM. Lingering Rain Changing To Snow ( A Dusting Up To 2″ Possible On Upslope Side of Mountains – NW Flow ).
*A large change in air pressure will drive a strong cold front across the mountains by late today into Wednesday AM.  A squall line of heavy rain-possible thunderstorms will reach the VA-KY stateline by around 5:00 PM, followed by ROARING evening winds as colder air begins to pour into the mountains.  Lingering rain showers will change to snow showers, with potential for light accumulations and icy-hazardous conditions ( underfoot and on some roads ) to form between 10 PM Tuesday and sunrise Wednesday.  Although snowfall amounts will be light, the sharp temperature drop could form black ice and eventually allow snow showers to stick at the higher elevations ( especially ).  Porches-decks-walks, etc…should be checked before stepping out onto them by Wednesday AM.
Overnight Into Tuesday Morning
Mostly clear.  Large vertical temperature spread forming between colder valleys and milder middle-upper elevation mountain ridges-plateaus.  Winds SSE-SW at 5-15 mph, with higher gusts, on mid-upper elevation ridges.  Temperatures varying from 20s in colder valleys to upper 30s to mid 40s on exposed mountain ridges and plateaus.  Wind chills in the 30s to lower 40s on mountain ridges.
Mid-Morning Through Late Afternoon
Increasing clouds.  Becoming windy.  A chance for showers by early afternoon.  A squall line of heavy rain & possible thunderstorms by late ( around 5 PM give or take an hour ).  SSW-SW winds increasing to 15-25 mph, with higher gusts, especially gusty on mid-upper elevation mountain ridges & plateaus.  Temperatures varying from the 40s to around 50 degrees at highest elevations in the High Knob Massif to the lower-middle 60s in milder locations.
*Although the risk for severe thunderstorms will be locally low, a very dynamic weather system and strong cold front will create an environment where this will need to be closely followed as one or more bands ( or a main squall line ) of showers-thunderstorms will be approaching the mountains from the west & southwest by late afternoon into this evening.  Damaging winds are the greatest threat, outside of always dangerous lightning, along with downpours of heavy rainfall upon an already wet ground. 
Late Afternoon Into Wednesday Morning
Showers & thunderstorms.  Locally heavy rainfall.  Some storms may be strong with a possible squall line timed to reach the VA-KY stateline by 5 PM ( give or take 1-Hour ).  Winds shifting WNW-NW at 10-20 mph, with gusts of 30-  40+ mph along and behind the cold front.  Turning much colder with a sharp temperature plunge from around 10:00 PM into the overnight period.  Rain showers changing to snow showers.  Temperatures plunging into the low-mid 20s by morning, with low-mid 10s at highest elevations in the High Knob Massif ( milder south toward the Tri-Cities ).  Wind chills plunging into single digits & 10s ( locally lower in gusts atop the High Knob Massif ) overnight into the AM.
A wet snow potential, with several inches possible, continues to be watched for the late Thursday into Friday AM period ( March 3-4 ).  Stay tuned for updates.
Weather Discussion ( Feb 29 – March 1 )
My Afternoon Update
The focus this afternoon is on a squall line of strong-severe thunderstorms, with a history of wind damage, moving into the Kentucky foothills near the mountains.
Some loud thunder & lightning in Clintwood at 5:11 PM
A 61 mph wind gust reported on Flatwoods Mountain, adjacent to Pine Mountain, near the Virginia-Kentucky stateline at 5:15 PM.
Blinding rain and strong winds in Clintwood at 5:22 PM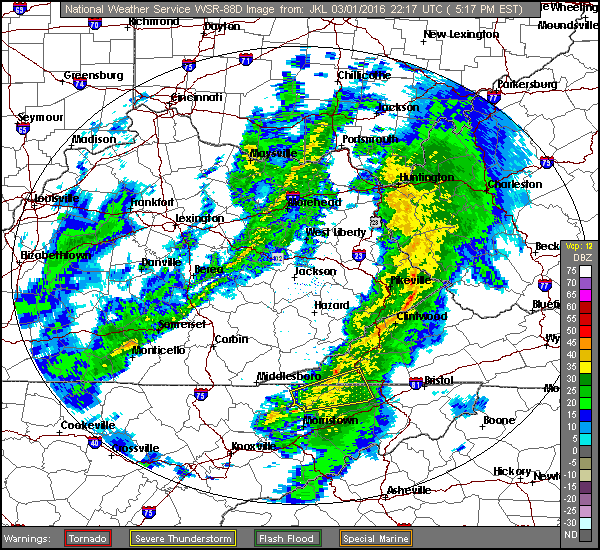 It has gotten dark like night with heavy rain and wind at 5:25 PM in Clintwood ( now into Norton-Wise ).  Booming thunder with a lightning strike at 5:29 PM.
Another BOOM of thunder with vivid lightning at 5:32 PM.
The line is weakening across the High Knob Massif area.
Wind damage has occurred in London, Ky., including buildings, trees, and at least 1 injury, with passage of this squall line.
Warnings have expired in eastern Kentucky, currently, but the line continues to have a mini-waves indicative of strong winds.
This warning is no longer in effect.
Temperatures remain chilly atop the high mountains this afternoon with middle 40s.  This means limited instability with dewpoints in mid 40s to lower 50s across the area.
However, momentum transfer of strong winds aloft will remain possible.  ROARING winds will overspread the area tonight behind the cold front.
My Overnight Discussion
A simply lovely close to the month of February, and also Meteorological Winter, has given way to a cold and frosty night amid mountain valleys verses gusty conditions and "milder" temperatures atop mid-upper elevation ridges.
It was 30.0 degrees exactly at my official Clintwood station at Midnight, with 31 degrees in Jonesville and Sandlick, verses a relatively balmy ( by contrast ) 46 degrees ( really 44 with the warm bias ) at Lonesome Pine Airport in Wise.
Colder mountain valleys were already in the 20s at Midnight, such that this large vertical temperature spread will increase into the overnight between valleys that remain decoupled ( detached from winds above ) from the flow field of the atmosphere and breezy-gusty mountain ridges & plateaus.
The main focus of this forecast period is on a dramatic weather change that will be developing between late this afternoon and Wednesday morning, with high-resolution models of the NAM group now coming into line with the more aggressive forecast of the European Model.
Note too the 58+ mph low-level jet being shown along the front where  isobars bend into a trough above over SE Kentucky.  While winds will be gusty before the front, all locations will tend to develop ROARING winds into evening as much of that momentum mixes downward toward the surface along with increasing cross-barrier flow as barometric pressure begins adjusting across the Appalachian chain ( large pressure falls then rises tonight ) from northwest to southeast.  A classic strong wind setting for a time later today into tonight.  Any squall line with heavy rain will be amid this setting ( toward 5:00 PM, give or take an hour ).  A squall line also implying that the heavy rain will tend to be limited in time ( good news for wet ground, yet downpours must always be respected in case they might linger over any given place for a little longer in time ).
To illustrate the change, the NAM Model predicts the 7:00 PM temp over Wise to be 48 degrees up at the summit level of the High Knob Massif.  By 7:00 AM Wednesday ( below ) the air temperatures has plunged to 12 degrees at the High Knob summit ( a 36 degree drop which can be translated downward to Norton-Wise to mean temps that plunge from 50s to around 60 degrees this afternoon to 20-23 degrees by Wednesday morning ).  This temperature drop is also forecast by the European Model ( increasing confidence ).
Winds continue to be gusty, especially along mid-upper elevation ridges-plateaus, into Wednesday morning such that feels-like conditions will truly be dramatic relative to temperatures experienced for a time today.
Any time there is such a dramatic air mass change the risk for strong to locally severe thunderstorms often must be respected ( especially entering Meteorological Spring ).
The Cumberland Mountains remain on the fringe with a marginal risk being maintained for severe storms.  The greatest severe threats ( as I had already noted earlier ) being for the possibility of damaging winds.
Kentucky is at the center of the potential for at least brief spin-ups ( tornadoes ) today, west of the mountains, and it will be this activity that will need watching as it pushes eastward to the mountains during the afternoon.
The 1:00 AM run of the HRRR Model has the squall line getting close to the Virginia-Kentucky border, west of Cumberland Gap, around 4:00 PM.  So I have adjusted my timing for Norton-Wise upward to 5:00 PM ( give or take an hour ).  This timing may still change and have to be updated later.
Stay tuned to NOAA Weather Radio for possible watches and/or warnings that might be needed today.
Have a great Tuesday.