Mountain Area Forecast ( Dec 10-12 )
Alert For Strong Winds Developing Mid-Late Sunday Afternoon Into Monday Morning With ROARING SSW- SW Speeds ( Widespread Gusts of 30-50+ mph )
Heavy Rainfall Will Also Develop Along The High Knob Landform And Upslope Locations Of The High Knob Massif And Tennessee Valley Divide Into Monday.  Rainfall Totals  Of 1.00″ to 2.00″ Are Likely, With Locally Higher Amounts.  Lesser 0.50″ to 1.00″ Totals Are Expected In Downslope Sites Across Northern Wise, Dickenson & Buchanan Counties ( e.g., Pound, Clintwood, Haysi, Grundy ).
Overnight Into Saturday Morning
Partly cloudy.  A few flurries in upslope locations of the High Knob Massif.  Bitter.  Winds SW-W at 5-10 mph, with some higher gusts, along mid-upper elevation mountain ridges.  Temperatures in the single digits to lower 10s.  Wind chills in the single digits along mountain ridges.
Saturday Afternoon
Partly to mostly sunny.  Cold.  Light and variable winds.  Temperatures varying from mid 20s to mid 30s ( coldest in upper elevations ).
Saturday Night Into Sunday Morning
Partly to mostly clear.  SSW-SW winds increasing to 5-15 mph, with higher gusts, on mid-upper elevation mountain ridges.  Temperatures varying from 10s in mountain valleys to the 20s, except temperatures rising slowly overnight into morning along mid-upper elevation slopes-ridges to around freezing.  Wind chills in the 10s and 20s, except single digits in gusts at highest elevations.
Sunday Afternoon
Partly sunny ( high clouds ).  Increasing clouds late.  Becoming windy.  S-SSW winds 5-15 mph, with higher gusts, below 2700 feet.  SSW-SW winds 15-25 mph, with higher gusts, on mountain ridges above 2700 feet.  Temps varying from mid-upper 30s to the mid 40s.  Wind chills in the 10s and 20s along upper elevation mountain ridges.
Sunday Night Into Mid-Morning Monday
Increasing clouds.  Rain developing into the predawn and morning.  Downpours likely in upslope locations, with wind driven rain.  Winds SSW-SW 15-25 mph, with higher gusts, on mountain ridges-plateaus below 2700 feet.  Winds SW 25-35 mph, with gusts over 50 mph in upper elevations.  Temperatures in the mid 30s to mid 40s, with strong late evening-overnight temp rises possible in downslope sites north-northeast of the High Knob Massif-Tennessee Valley Divide ( rising into mid-upper 40s to around 50 degrees ).
Mid-Morning Monday Into Monday Afternoon
Rain.  Heavy at times in the morning giving way to light rain and showers before diminishing to drizzle into the afternoon.  Low clouds with dense fog on highest ridges.  SW winds shifting W and decreasing.  Temperatures near steady or slowly falling in the 40s below 3000 feet.  Temps dropping into and/or through the 30s above 3000 feet.
*Strong rises on creeks draining the High Knob Massif and Black Mountain area ( along the VA-KY border ) will be possible Monday if heavy rainfall is realized, with efficient run-off on partially frozen ground in wake of prolonged arctic cold.
Weather Discussion ( Wet Pattern )
Some flakes of snow continue to fly along upslope sides of the High Knob Massif into this overnight, but only flurries.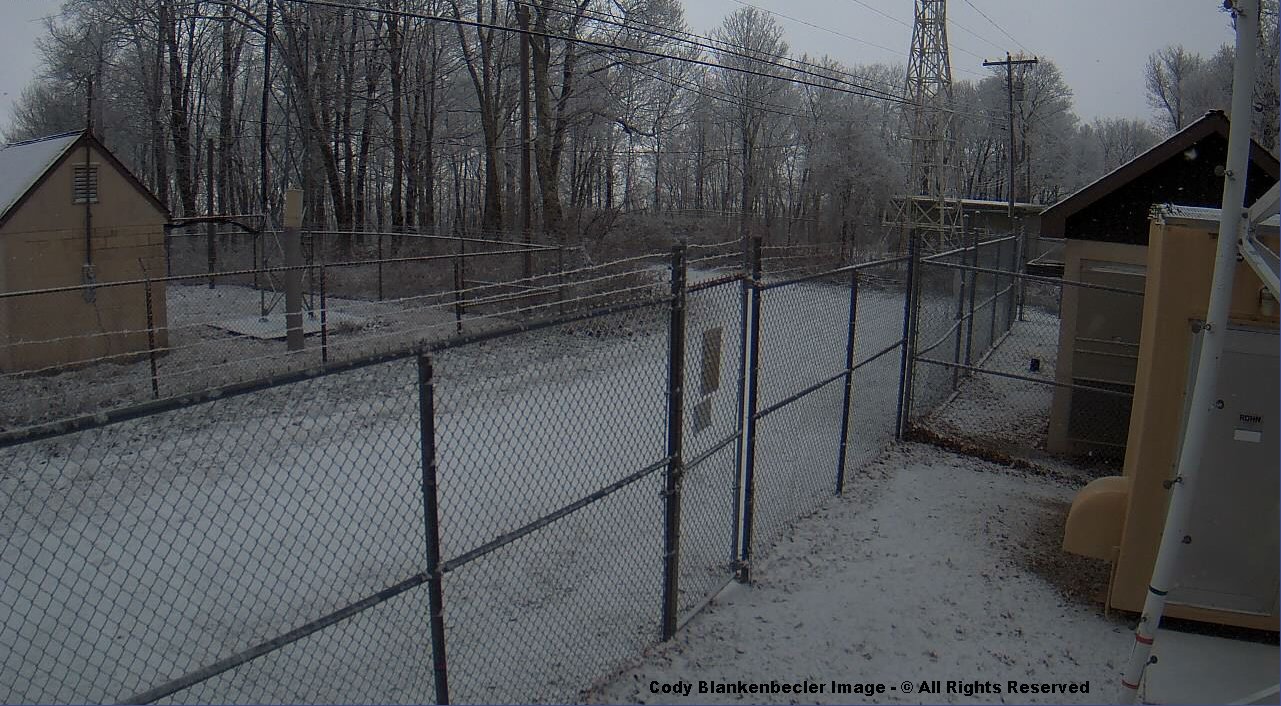 A dusting up to around 0.5″-1″ accumulated into Friday morning, covering roads ( and riming trees at highest elevations ) for the first time this cold season.  Air temperatures Friday morning varied from bitter single digits at highest elevations ( with sub-zero wind chills ) to the lower 20s in more sheltered valleys of the lower terrain ( below 2000 feet ).
While the short-term drought, dryness, is now essentially history across the High Knob Massif with respect to total precipitation, a snow drought lingers.  Season to date snowfall totals are getting MUCH behind average.
Hundreds of Millions of Gallons of water have been gained by the Big Cherry Lake since November 30 via a total water level rise of 7.5 vertical feet ( with a slow rise currently continuing ).  The lake is now within a couple feet or so of being full, and I expect this next rainfall event to finish the job and likely generate overflow of the Dam's spillway by the middle of next week.
Focus now shifts to the next weather system which develops a ROARING 60 knot 850 MB low-level jet up along the west side of the Appalachians by Sunday Night into Monday AM.
This forecast is supported by the European Model group which has 40 knot winds along the Virginia-Kentucky border by 7 PM Sunday, increasing into the night-Monday morning to around 60 knots.
These strong winds work to also crank up the orographics with moderate-heavy rainfall becoming likely along and southwest of the Tennessee Valley Divide and High Knob Massif into Monday.  Model rainfall predictions will be too low in this zone; although, rain gauges at higher elevations will struggle to catch this wind driven fall of rain.
Strong winds will cause significant rain gauge undercatches, especially in higher elevations, where rain will fall horizontally during a substantial portion of this upcoming event.
A stormy pattern continues through the extended, with a bounty of arctic air toward the north dropping into the USA; however, blocking from Greenland toward Alaska is not in the best position for significant snowfall over the southern Appalachians.  It could get close, and only a small change on any given event could be enough to allow the first significant snowfall to occur.  Local odds would be greatly increased if snow can get laid down to our north across the Ohio Valley ( which then would help nudge the baroclinic zone southward…and the mean storm track ).
Although the European shows a couple more shots of arctic air in the next 10 days, the ensemble MEAN illustrates that the southern Appalachians remain along the edge of the cold air ( in the mean ).
When an area is on the edge it is precarious, such that each event will have to be closely followed through the next 10 days to see if any tracks further south and/or amplifies enough to mix cold air with moisture over this region.
As snow cover increases to the north it will increase odds of getting a significant snowstorm developing south in time.  Until that happens; however, a snow drought is now the main precipitation anomaly in the massif area.
Some signs for a significant ( major ) storm are showing up out in the 7-10 day period, but heavy rain versus snow remains an open potential with rain currently being most favored.  Stay tuned for updates, as a major rainfall coming after December 12-13 and more cold air to freeze the ground would not be a good thing.