My Forecast For Today ( February 12 )
ALERT For Accumulating Snow Developing Today With Heavy Snow In Upslope Locales Tonight Into Saturday.
Extremely Bad Conditions Are Expected To Develop As Temperatures Drop –

Dangerous Cold

Will Develop Late Friday Night Into Saturday-Sunday AM
With respect to the High Knob Landform corridor, the area within the yellow on my forecast graphic possesses the greatest uncertainty for snowfall totals, depending upon the Clipper track and amount of snow which can penetrate into the Powell River basin on NW flow.  The area possessing the highest certainty is upper elevations of the High Knob Massif where 4-8″ or locally more will be possible.
Target Snowfall of 4.5″ in Norton-Wise ( +/- ) 1.5″ spread potential.  This implies potential for 3″ to 6″ of snowfall in the Norton-Wise area, with locally heavier amounts likely in upper elevations of the High Knob Massif from today into Saturday Night.
A widespread general snowfall will develop today with a fast moving Alberta Clipper System.  The bulk of accumulation leeward of the Cumberland Mountains is expected with this system before NW Upslope Flow snow showers, squalls, and snowstreaks develop tonight into Saturday.  Due to recent bitter cold, travel conditions are expected to become hazardous across the region with an axis of heavier snow along and/or south of the High Knob Massif into the Great Valley of NE Tennessee with the Clipper.
Potential of a Major Winter Storm Is Increasing for  February 15-16.  Please stay tuned for updates

.
Overnight Into Mid-Morning Friday
Increasing clouds with snow developing between sunrise and mid-morning ( especially along and south of a Harlan to Wise line ).  Winds becoming S-SW at 5-15 mph, with higher gusts, across mid to upper elevation mountain ridges and plateaus.  Temperatures in the 10s to low 20s, tending to rise some into morning.
Mid-Morning Through This Afternoon
A period of steady snow giving way to flurries and/or a brief break prior to snow showers increasing late within the upslope zone with respect to W-NW winds ( areas inside RED on my snowfall forecast graphic above ).  Winds becoming W-WNW at 5-15 mph, with higher gusts.  Temperatures varying from low 20s to low 30s ( coldest at highest elevations ).  Wind chills in the 10s and 20s.
An organized band of intense snow, with whiteout conditions, will become possible by the late evening-Midnight period with arrival and passage of an Arctic Front ( stay tuned for better timing ).
Tonight Into Saturday Morning
Snow showers & squalls.  Whiteout conditions at times in squalls ( with a hit-miss coverage ).  Winds becoming NW-NNW at 10-20 mph, with higher gusts.  Becoming bitterly cold by morning.  Temperatures varying from 0 degrees at summit levels of the High Knob Massif to lower 10s ( single digits to 10 degrees in Norton-Wise ) by morning.  Wind chills from 0 to -10 degrees below zero on middle elevation mountain ridges and plateaus, with -10 to -30 degree below zero chills in upper elevations above 3000 feet.
Blowing & drifting snow will develop tonight into Saturday at exposed middle to upper elevations.  Some roads in the high country of the High Knob Massif may become impassible.
Weather Discussion ( February 11-12 )
My Afternoon Update
No changes to my forecast this afternoon with everything being on track.  A general 0.5″ to 1″ of snow was reported with the clipper system this morning, with highest totals toward the south ( as figured ) where Big Stone Gap got more than the City of Norton ( Around 1″ verses 0.5″ ).
The most snow fell across southern locations south of the High Knob Massif in the Great Valley of NE Tennessee from Bristol southwest to Gatlinburg.
Orographic clouds are laying low across the High Knob Massif, waiting now for the bitter air to help generate the real snow.
There is sure a bounty of cold air poised to drop down.
Temperatures today have ended up colder than the models predicted, and right within my forecast range of lower 20s to lower 30s ( coldest at highest elevations ).
Temperatures have been hovering in the upper 20s ( LNP says 30 but all other available sites report upper 20s ) in Norton-Wise.
It is now merely a waiting period for Great Lake moisture to come south with the bitter air upstream of the mountains.
Timing on the Arctic Cold Front is a little slower on the latest high resolution NAM 4 KM Model, with it being near the VA-KY border by around 1:00 AM.  So some time from late evening into the early overnight period.  Increasingly severe conditions develop along and behind the Arctic Front into Saturday Morning.
Meanwhile, light snow and snow showers will be developing during the evening in advance of the Arctic Front.
Light snow is falling now, as the most sensitive mode of the Doppler is barely able to detect, in Clintwood at 4:37 PM.
My Overnight Discussion
The picture of the day highlights conditions atop the sprawling High Knob Massif as the first rays of sunshine broke through the low overcast on Thursday morning.
The view from UVA-Wise around the same time.
Thursday again featured colder than average conditions with PM MAXS varying from 28 degrees in Clintwood to around 18 degrees at the High Knob summit level.
Beautiful skies ended the day…
with a deep, settled snowpack atop the High Knob Massif.
Some serious winter is on tap for the mountain region through early next week, with it beginning today as an Alberta Clipper races southeast into a digging trough.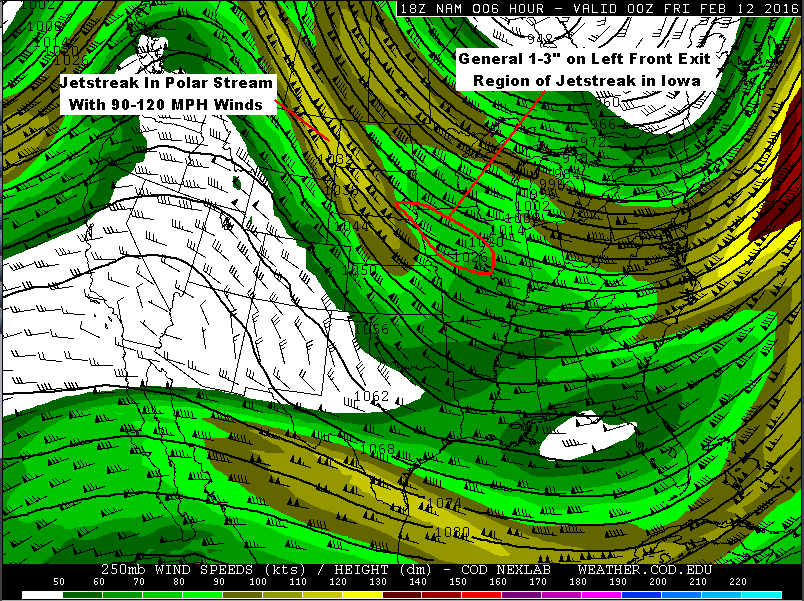 A general 1-3″ of snow fell upstream with the Clipper as it crossed Iowa, with 2.2″ at last report officially measured at the Des Moines NWS Office.  The snow was on the nose of a polar jetstreak.
Following the jetstreak downstream it is easy to see that the left front exit region zone of high altitude lifting will be moving into the Mountain Empire, with a bias toward the southern areas if model runs at 00z ( 7 PM Thursday ) are on target.
I am glad that the NWS Forecast Office in Morristown, Tn., expanded its Advisory to cover counties in the Great Valley  since conditions are likely to become hazardous.
The mean of past climatology of clippers tracking SE from the Iowa area is that snow density tends toward 20:1, which will especially be true in this case given arctic air. Echoes on Doppler will initially evaporate before reaching the surface as the lower levels remain relatively dry.
This will act over time to enhance cooling and work at offsetting some of the warm air transport aloft.  Since winds below 4000 feet are not predicted to be that strong, there is a good chance that low-level temperatures will end up being colder than models predict.  This being especially true since clear early evening skies have allowed for good temperature drops in valleys.  Much like what happened with the January 20 clipper system.
The main difference between this clipper and the one back in January is that it will be followed by an Arctic Front that has an excellent Great Lake connection.  This will CRANK snow showers and squalls along the upslope side of the southern-central Appalachians tonight into Saturday.
An organized band of intense snow squalls is likely to develop and move southeast into the windward side of the Cumberland Mountain Friday evening, with rough timing obtained by using the 850 MB Theta-E pattern forecast.
The Arctic Front should be amid the DARK BLUE band shown on the above Theta-E forecast chart, which would roughly place it at the Virginia-Kentucky border by 10:00 PM tonight.  Timing on this, of course, being subject to change since this front will be developing over time today as bitter air surges south from Canada.
While some snow showers and squalls may form in advance of the front, it will be along and behind the Arctic Boundary that conditions become increasingly severe overnight into Saturday morning on excellent NW Upslope flow.
The LSLM ( Limiting Streamline for Lake Moisture ) is forecast to be along and northeast of the Great Smokies, so the best snow squalls should develop along-northeast of the Smokies with very little snow southwest of this streamline ( e.g., SW portion of NC ).
If this streamline forecast verifies, the High Knob Massif is in a prime location where past climatology of MANY such events show heavy snow is a given ( with riming and enhanced orographics ).
Snow showers are likely to continue into Saturday Night along the upslope side of the mountains as the coldest air mass of this winter season grips the region.
With any clearing by Sunday Morning temperatures could drop well below ZERO.  The amount of clouds, snow showers-flurries into that time remains to be determined for upslope locations.
It will be at least another day before models can get a handle on a Major Winter Storm system that begins to impact the mountain area by late Sunday into Monday.
The Bottom Line…A Harsh Period of Winter Will Be Gripping The Mountain Empire From Tonight Thru This Weekend Into Early Next Week – Dangerously Cold Temperatures And Simply Hazardous Outdoor Conditions For Humans & Pets.  Please remain safe.