My Forecast For Today ( February 25 )
ALERT For Accumulating Snow Mid-Upper Elevations Into Thursday Morning ( Mainly At Upper Elevations During The Day ) And Across All Elevations Along The Upslope Side Of The Mountains ( WNW-NW winds ) During Thursday Night Into Friday Morning
This Will Be An Elevation Biased Snow Event Until Thursday Night, When All Elevations Will Have The Best Chance For Accumulating Snow & Widespread Hazardous Travel Conditions.
As of 11:00 PM Wednesday State Route 619, Routes 237 & 238, as well as others, at upper elevations in the High Knob Massif, were becoming icy and snow covered.  Sticking snow levels will drop to around 1300-1700 feet by morning, then be mostly at elevations above 2500-3000 feet during the day before dropping to include the entire area along the upslope side of the mountains during Thursday Night into Friday morning ( * ).
*The GFS Model is colder on Thursday than the NAM Model.  If the GFS verifies then sticking snow levels during the day will remain lower and generally be at or above 2000 feet ( lower amid any squalls ).
Due to strong upslope flow there will be a tendency for sticking snow at lower elevations along and southwest of the High Knob Massif and Tennessee Valley Divide ( 1300 feet ), than for lower elevations northeast-east of this high terrain ( 1700 feet ), into Thursday AM ( this morning ).
*Any snow squalls that may develop today could cause sticking and low visibility at any location, with subsequent melting & sunshine due to sinking air in their wake.
Overnight Into Thursday Morning
Any rain-sleet showers changing to snow showers. Blowing snow ( heaviest snow and best sticking along and southwest of the High Knob Massif-Tennessee Valley Divide at 1300-1500 feet or higher in elevation ).  Windy.  SW to W winds 15-30 mph, with higher gusts.  Temperatures varying from 20-25 degrees at upper elevations to the lower-middle 30s.  Wind chills dropping into the 10s and 20s, except 0 to 10 degrees along upper elevation mountain ridges.
Snow which sticks into Thursday morning may tend to melt at lower and middle elevations during the day, especially in places with southern exposures and during any hazy sunshine or breaks in the overcast ( even upper elevations will tend to have melting, especially across southern exposed slopes ).
The exception to the above will be northern slopes, especially at the higher elevations, and any place having a snow squall ( burst of heavy snow ) which could cause local sticking and significant reduction in visibility for short-periods of time.
This Afternoon
A chance for snow showers & periods of snow at mid-upper elevations, with a mix possible at lower elevations ( below 2000 ft ).  Local snow squalls ( bursts of heavy snow ).  Some breaks in the overcast possible.  Windy.  Winds W-WNW 10-25 mph, with higher gusts.  Temps from mid-upper 20s at upper elevations to the mid-upper 30s.  Wind chills in the 10s & 20s ( locally colder in gusts at highest elevations ).
The most snowfall, and most widespread sticking with hazardous travel, is expected to develop Thursday evening into Friday AM.
Tonight Into Friday Morning
Snow showers & snow squalls.  Snow may be heavy at times.  Windy with blowing snow ( especially along exposed mid to upper elevation mountain ridges & plateaus ).  NW winds at 10-20 mph, with higher gusts.  Temperatures varying from the low-mid 10s at highest elevations to the mid-upper 20s  ( milder at lower elevations toward the Tri-Cities ).  Wind chills varying from single digits below & above zero at the upper elevations to the 10s to lower 20s.
Weather Discussion ( February 24-25 )
My Afternoon Update
Following some good overnight-morning snow a break with flurries and scattered, mostly light snow showers, has been the rule during the early-mid afternoon.
At 9:00 AM my friend Joe Carter, of the City of Norton Water Plant, measured 1.5″ of snowfall ( between 1-2″ on ground ).  Since then there has been little additional sticking.
The City of Norton Water Plant reports 6.85″ of precipitation for the month of February ( 2.39″ with this storm event ), with 11.08″ since the beginning of 2016.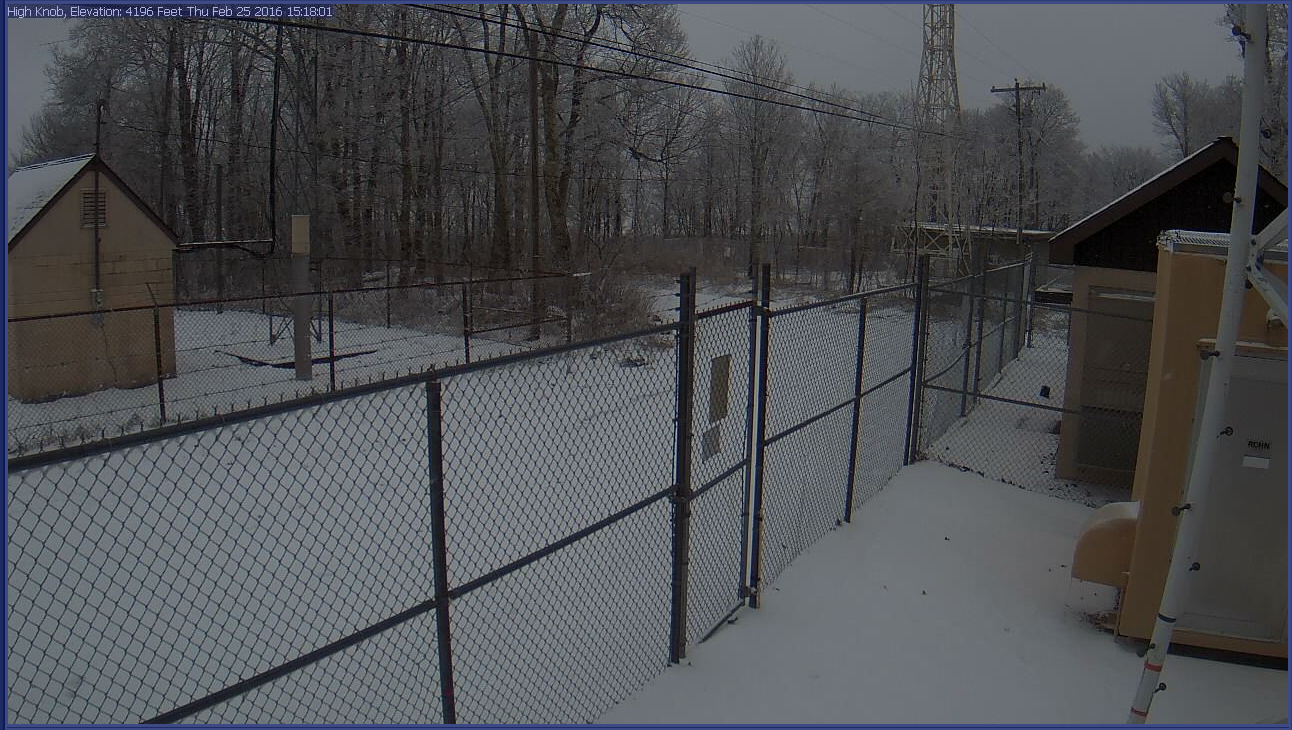 A general 2″ to 4″+ of snow depth is on the ground on Eagle Knob this afternoon, with around 3.0″ of snowfall being the estimate for the wind driven overnight & morning fall.  The temperature on Eagle Knob has held steady or slightly fell amid lower 20s during the day ( wind chills have, of course, made it feel much colder in all locations today ).
My friend Darlene Fields measured 2.3″ on the ground at 5:10 PM in High Chaparral ( around 2.5″ or more of total snowfall with some settlement today ).  This has, of course, been a difficult snow to measure given ROARING winds and by the end will require more figuring ( to figure it out )!
To the north, at Clintwood 1 W, I had just under 1.0″ of snow this morning which has now nearly all melted away with 35 degrees.
Flurries and light snow showers occurring now are due to a shift to more mid-continental air, with the 1:00 PM analysis from the NAM 12 KM Model showing this well.
*The NAM Model ended up beating the GFS Model on afternoon coverage, but temperatures on the GFS Model have been closer to reality than those predicted by the NAM.  Yet again this illustrates that no model is correct, with forecasters needing to follow actual conditions, use past climatology of similar conditions, and try to use the model, or blend of models, that fits the setting best.
ALWAYS keeping in mind the known model biases which research by Baker & Konrad clearly show places too much emphasis on locations near the ECD ( Eastern Continental Divide ) relative to the western front range of the mountain chain ( likely the largest model errors in all of the southern Appalachians, according to my data, is centered upon the High Knob Massif where much more snow falls than is forecast by computer models on NW Flow & other flows ).
Graphic Above Courtesy of:

Relationships between NW flow snowfall and topography in the Southern Appalachians, USA

by authors L. Baker Perry and Charles E. Konrad.
Forecast models consistently under-estimate snowfall along the western front of the southern Appalachians, with largest model errors showing up on Mount LeConte, Wise, and Beckley.
Forecast models consistently over-estimate snowfall along the ECD from Virginia down along the TN-NC border ( except for the highest peaks ) during NW Flow events.
If observed snowfall in the High Knob Massif ( e.g., High Chaparral and the main crest zone ) was factored into this it would easily be the largest under-estimation in the southern Appalachians.
Yet most forecasters, unaware of this research and my 27 years of collecting snowfall, including the Weather Channel, consistently neglect this research and place heaviest snow amounts along the ECD indiscriminately ( including places like the New River Valley and many sites along the NC side of the border where snowfall tends to be much less during many such events ).
*I grew up watching The Weather Channel always place a strip of heavier snow down along the ECD to the east of Norton-Wise and Clintwood.  I said, "that just doesn't look right to me."  I started measuring snow when I was just 10 years old and began to see it was not right.  Wise, officially the snowiest Town in Virginia, was always being left out ( in the cold )!
Due to abundant mid-level moisture there have been no breaks in the overcast to make the lower-levels more unstable, limiting heavier snow showers and squalls.
An upper wave approaching will help turn the low-level flow back off the Great Lakes tonight into Friday morning.
This will increase snowfall again as the coldest temps this system offers move into the mountains on NW upslope.  I expect hazardous travel conditions to become widespread along the upslope side of the mountains into Friday AM.
A general 1″ to 3″ of new snow, with locally more possible atop the High Knob Massif, will put event snowfall totals into ranges that I originally forecast a couple days ago.
My Overnight Discussion
Reference my 022416 Forecast & discussion for more details on this past day of turbulent weather conditions.
Yet another phase of a powerful late season winter storm has now been entered, with complexity remaining in the forecast for today into Friday.  I have tried to condense it above, with emphasis on this being an elevation biased snowfall event through today ( i.e., better sticking-snow with increasing elevation through today ).
Observe temperature changes which occurred today…between 7:00 AM and 7:00 PM…as this monster-sized storm swirled across the region, triggering a Tornado Outbreak in eastern Virginia.
A deadly and destructive tornado outbreak in eastern Virginia.
Observe the 850 MB wind field changes between 7 AM and 7 PM.
Colder air has been driven into the area on SW winds.
At Midnight, for example, roads & the ground are covered atop the High Knob Massif while nothing has stuck at my official NWS station in Clintwood ( with wind driven sleet being the main precipitation type during the evening ).
*The Midnight temperature was 24 degrees atop the High Knob Massif with wind chills in the single digits.  By contrast, the air temperature was 36 degrees in Clintwood.
There is a natural tendency, due to strong upslope flow, for sticking to occur at lower elevations along & southwest of the  High Knob Massif & Tennessee Valley Divide on SW-WSW flow through the overnight into Thursday morning than for locales northeast-east of this high terrain.  This is exemplified at the present time by differences between Jonesville & Birchleaf:
Jonesville & Birchleaf are both close to the same elevation above sea level, but strong SW upslope flow is making the air cooler in Jonesville ( 32 degrees ) than Birchleaf where SW air flow sinks and warms into the Russell Fork basin.  The midnight temp in Clintwood was also 36 degrees.
Today the atmosphere becomes more unstable as temp drops with height increase.  Although the NAM Model is actually not forecasting any snow to fall this afternoon, that seems unlikely given enough moisture to generate snow showers and some hit or miss snow squalls ( as the atmosphere gets more unstable the chance for developing bursts of heavy snow will increase in a hit-miss fashion ).
Air tends to converge into snow squalls and snowstreaks and to subsequently sink ( as demanded by atmospheric compensation ) around their peripheries.  Sinking air opens up clouds to sun that then acts to make the lower atmosphere more unstable, forming a feedback cycle that then feeds upon itself to help develop more snow squalls and/or streaks.
*Since the 850-700 MB flow will become unidirectional this also increases the chance for snowstreaks ( a train of squalls ) to form today as flow comes south off the Great Lakes.  Any places having a snow squall, or snowstreak, could accumulate snow during the day while in general the best sticking today will be at highest elevations and northern exposed locations.
By this evening into Friday morning conditions begin changing as the coldest air this system has to offer is transported into the mountains ( 850 MB thermal MIN ), along with a period of deep moisture & upper divergence which is joined and followed by good NW Upslope Flow.  Therefore, the most snow and best accumulations will become most likely tonight into Friday morning.
*Some places may have little to no snow accumulation until this period ( Thursday Night into Friday Morning ).
Nice diffluence aloft at 500 MB and PVA will be beneath good speed divergence at 300 MB.
Combined with excellent NW upslope flow and moisture from Lake Michigan the stage will be set for accumulating snow showers, squalls, and maybe some streaks.
The Thursday evening through Friday morning period should produce the best ( most ) snowfall of this event, along with the most widespread hazardous travel.
*There is an excellent chance for many more school schedule changes Friday than into this morning ( Thursday ).
Make it a great Thursday.